The Kindred Group — the parent company of Unibet — is at the forefront of putting Responsible Gaming (RG) front and center of everything the company does. The operator leads the way as one of the only gaming companies to be so transparent with its responsible gaming goals and objectives.
In this exclusive interview with PokerShield, Kindred's Head of Responsible Gaming and Research, Maris Catania dives into why responsible gaming efforts are so important to the company and how it transcends into every part of the company.
Key Interview Takeaways
Reporting revenue as a different strategy to tackling and understanding harmful gambling habits.
How a proactive, responsible gaming-based approach can help operators combat harmful behaviors.
Insight into Kindred's early harmful-gambling-detection system
Collaboration between operators and regulators is a big step forward in tackling harmful gambling at an industry level.
Kindred has set itself one of the most ambitious goals of the industry. On February 7, 2021, Kindred boldly declared that it would: "[Take] the next step on the journey towards zero revenue from harmful gambling by 2023," claiming that player safety is the top priority for the company.
Kindred has stated that it wants to derive zero revenue from harmful gambling by the end of next year. In its quest to achieve this — which the operator calls "Journey Towards Zero" — the operator plans to be completely transparent with its revenue reporting. The operator states that, despite player safety being the most discussed topic for operators, there is "very little" real data into the issue.
Hence, Kindred wants to be totally transparent, hoping to provide data for "a fact-based debate." Starting early last year, Kindred now reports on how much money is generated from people with problem gambling habits.
In November of 2021, Kindred announced that the total revenue generated from problem gambling was down from 4.3% in Q4 of 2020 to 3.3% in Q3 of 2021. Q4 2021 results, released on February 7, 2022,, show this figure has crept back up to 4.0%.
Year-over-year, the figure is still moving in a downward trajectory, but it still shows that reducing problem gambling to zero is no simple task. If Kindred can achieve this by 2023, it will be the first gambling giant to have achieved such a milestone.
2020/2021 Revenue from Problem Gambling for Kindred Group
| Global Statistics from Kindred Group | Q4 2020 | Q1 2021 | Q2 2021 | Q3 2021 | Q4 2021 |
| --- | --- | --- | --- | --- | --- |
| Share of Gross Winnings Revenue from High-Risk Players | 4.3% | 3.9% | 4.3% | 3.3% | 4.0% |
| Improvement Rate After Interventions | 75.7% | 76.6% | 76.9% | 64.9% | 79.2% |
With this goal firmly in mind, PokerShield has spoken to Kindred's Head of Responsible Gambling and Research, Maris Catania for more details.
Firstly, please tell us a bit about your role at Kindred.
My role in Kindred is that of the Head of Responsible Gambling and Research. I take care of strategy and research, but then also have three amazing Responsible Gaming Managers who look into case management and customer cases.
It seems that Kindred is leading the charge when it comes to Responsible Gambling (RG) efforts, especially with the goal of reaching zero revenue from problem gambling in 2023. Please, can you give us some depth or insight into Kindred's "Journey Towards Zero"?
As a company, Kindred Group has always been exceptionally supportive of Responsible Gambling initiatives.
We want a fact-based discussion. This is also why we invest in so much research — we want to base what we do on empirical studies and data.We wanted to have a strong mission and we wanted to be able to measure it. It was always very difficult to measure harmful gambling, so we looked into a different approach: By reporting the revenue coming from self-excluded customers, customers disclosing that they have an addiction, and customers showing the highest occurrence of markers of harm.
Having this as a company-wide mission helps us commit as a company to reducing gambling-related harm by working together.
How long has this been a core aim of the company?
I would say that this has always been the core aim of the company.
Perhaps in previous years, it was something driven more by individuals and higher management, but now it has become something that is more widespread. I would like to emphasize that this is not a tick-the-box exercise. This is now something that is in our core and on the top of everyone´s mind — throughout the whole organization.
With two years left to achieve this goal, are you confident you will get there?
I think if we continue working together and dedicate more resources to this topic, we can get close to zero.
In terms of problem gambling and getting your RG team involved in cases, what threshold does the player need to meet in order for you to intervene, and what tools and help do you provide to players?
What we have done is: We have translated the Diagnostic and Statistical Manual of Mental Disorders (DSM-5) criteria for gambling disorder into markers of gambling harm. Depending on the level of these markers, the customer will have a specific intervention.
If the customer is at the highest risk, we will put the customer's ability to deposit more money on hold until we can speak to the customer.
For medium risk, we look into each customer case and identify — through a humanistic and personalized approach — what is the best advice that we can give.
For the lower risk, we are working on having automated interventions in terms of pop-up information. We offer a myriad of tools, ranging from deposit limits, loss limits per product group, product blocks, and different self-exclusion options.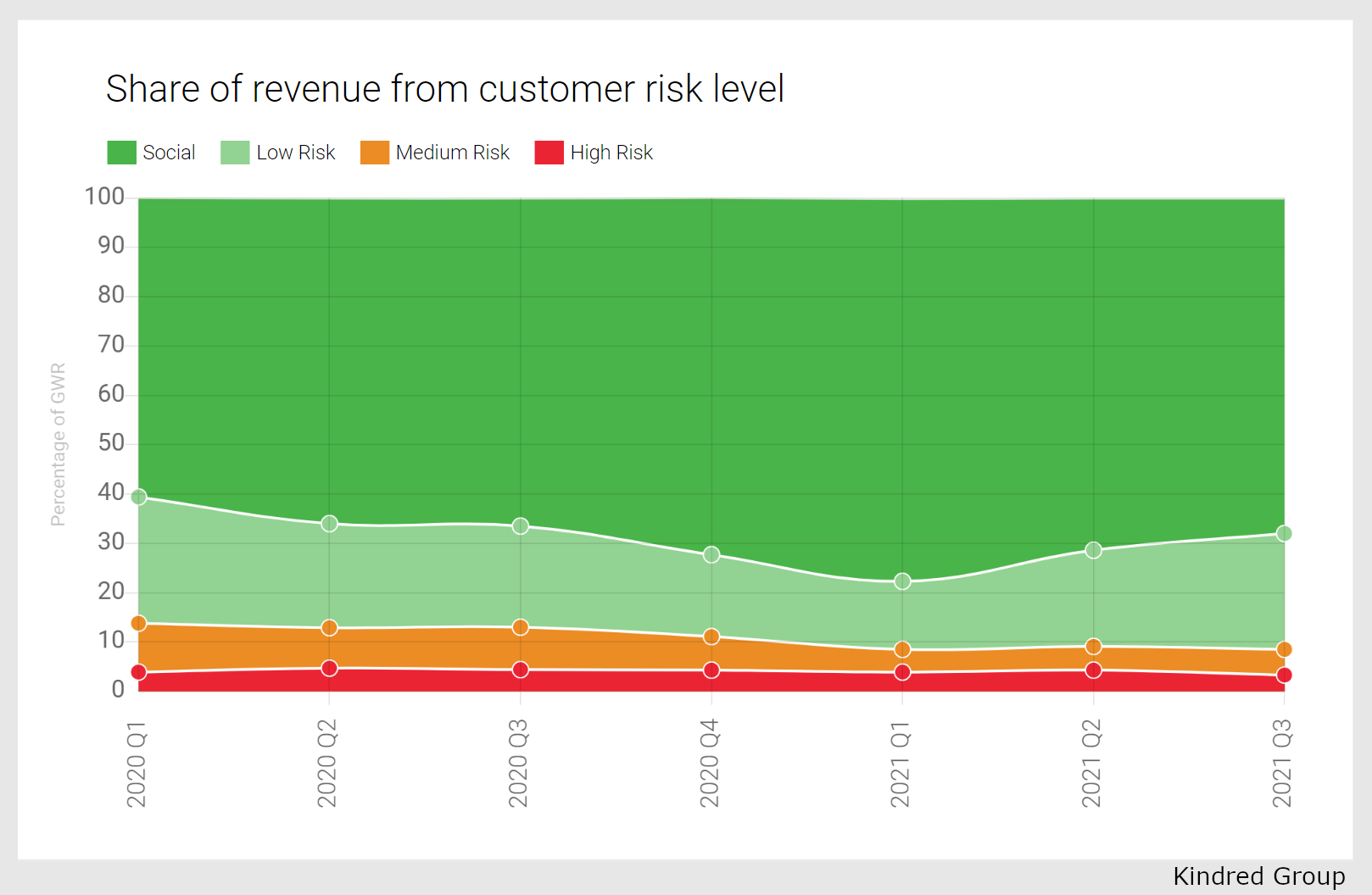 How do you educate your customers on the RG initiatives at Kindred and ways they can stay in control of their gambling?
This depends on the risk level the customer is detected to be at, but we also work very closely with experts by experience (lived experience) and treatment centers, to identify what are the best ways to get customers to use RG tools or to minimize harm.
How much of a fine line do you think operators need to cut when it comes to promoting gambling, but also making it safe? Do you think they can ever truly do both?
I think if there is a proactive RG approach — focusing on identifying people that might be getting out of control at an early stage — this can help to protect these customers, while still ensuring an entertainment value for customers. So the answer to your second question is a firm yes!
You are the first gaming company to have a public KPI to show progress on revenue received by harmful gambling — what spurred Kindred to be so transparent with their findings?
We do hope that other operators can be inspired by us and maybe follow our example.One of the reasons is that we want a fact-based discussion. This is also why we invest in so much research — we want to base what we do on empirical studies and data.
What more do you think the industry can be doing to tackle harmful gambling? If you could wave a magic wand, what would that look like?
I would make the industry work more closely with each other, where we can communicate better and help by sharing data. I would like to see the same level of collaboration amongst regulators and more sharing of data.
Lots of people turned to online gambling during 2020, as seen by revenue figures industry-wide. How did you, as an operator, juggle this buoyant time — wanting to attract and retain a captive audience while making it safe to do so?
We focused on always improving our detection system, which, in fact, looks at more behavioral indicators, rather than only financial ones, to be able to help people before financial harm has occurred.
Spain banned all gambling advertising during most of 2020 in response to the stay-at-home orders in place across the country. This was done to curb operators targeting vulnerable people. Do you support such regulatory interventions? Were you surprised by these measures, and/or surprised they were not adopted by other countries?
I think gambling advertising is a very sensitive topic. There needs to be more balance — in some situations, I do think there is an overflow of advertising, which is also damaging the gambling industry as it can create annoyance, even with the more social gamblers.
Apart from Kindred, which operators do you think are committed to tackling problem gaming?
This question, we can´t answer. We can only answer for ourselves but we do hope that other operators can be inspired by us and maybe follow our example.